The GOLD series, which continues to this day, is one of FI's most successful projects.

The first incarnation of gold-x-change was commissioned by Beral Madra of BM Contemporary Art, Istanbul, during the 1997 Biennale.                                                                                                                                                                                                           EVERYTHING MUST GO  | CFCCA | Manchester 2011

A collection of hundreds of small unloved items donated by local retailers and the people of Manchester was gathered

. Over a period of 6 weeks the worthless object were gilded with 18-carat gold leaf in the gallery space that was transformed into a workshop and showroom. Visitors and bystanders were invited to carry out the gilding as well, assisted by the FI team. At the end all gilded articles were available by a number – In an almost alchemical process, a re-distribution of gold took place at the CFCCA on Thomas street.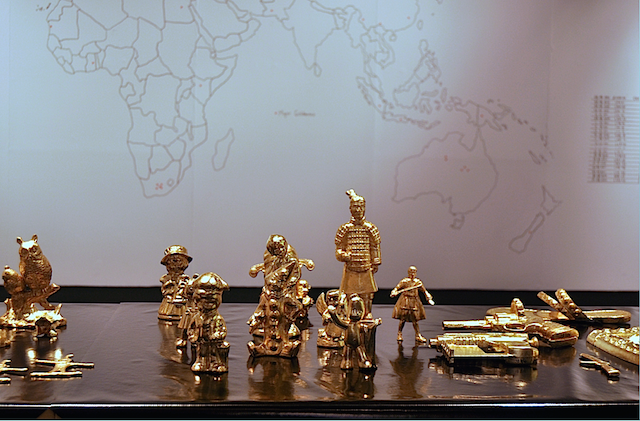 OSLO GOLD EXCHANGE was part of Hva Gjør Du Her? a project, supported and produced by Mesen (http://mesen.no/) in Oslo. As 'Travelling Alchemists' FI set up workshops in Groruddalen using "child labour" to transform unloved and discarded toys into golden objects of desire. These objects were re-distributed in a unique performance – art tombola – held at Galleri FORMAT ( http://www.format.no/) to raise funds for a local charity working with disadvantaged children. The project was funded by Arts Council Norway and Oslo Kommune. See more here : https://www.facebook.com/oslogoldexchange
GOLD FOR DEPTFORD 2008 London, received the Macdonald Egan Award 2008 (commissioned by Deptford X ) A magical re- distribution of meaning took place when street rubbish was turned into gold. All gold was displayed on the bar counter of the Deptford Arms Pub. On the last Sunday of Deptford X all gilded items were put back onto the streets – ready for a lucky passer-by.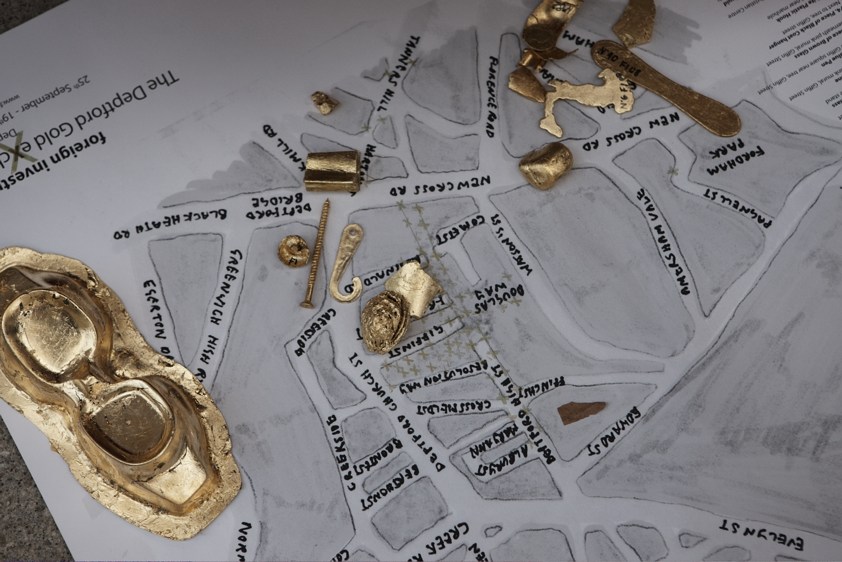 GOLD FOR EVERY BODY (2001, Rio de Janeiro) The Brazil nut was re-imported in gold to its country of origin: Brazil Trading and cultural exchange took place at Funarte, Ministry of Culture (above) Parque Lage, Galeria Capacete and Bar de Minero, Santa Teresa.

GOLD EXCHANGE BM Contemporary Art Center, Istanbul, Turkey Curator: Beral Madra GOLD X CHANGE was included  in the fringe programme of the 5th Istanbul Biennale. Ordinary objects were turned into golden objects of desire by gilding with 18 karat gold. It almost caused a scandal, when in 1997, it coincided with violent protests against the exploitative and destructive policies of the international gold-mining industries.